Contact
Phone
(877) 255-7761
Manager

(877) 255-7761 ext. 202

Customer

Service

(877) 255-7761
Contact information for current Board members can be found on the
Newsletter
.
The Board of Directors encourages owners to agree to accept association-related communications by e-mail. If you are agreeable to electronic communication, please complete and sign the
Electronic Communications Authorization Form
and return it to Management. By completing the form you are agreeing to receive by e-mail those communications which may legally be sent through electronic means; including but not limited to monthly newsletters, and the annual budget and reserve study. If you have any questions about authorizing electronic communications, please contact Management.
The current Insurance Agent for Bluff City Inc. and the contact information is:
Russo Insurance and Financial Services
951 Reserve Drive, Suite 160
Roseville, CA 95678
Christina Keele
916-791-1901 or 800-281-7873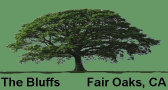 Communications regarding problems, requests for forms and documents, etc. should be directed to the Bluffs' management company:
Hours: M-F 9:00am-5:00pm